Head Boy – Sam Kelly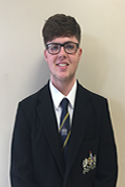 It is a great honour for me to be appointed as the new Head boy of Ashfield Boys' High School. It is one of the proudest moments of my life. In this role I am looking forward to being the representative for the school and working with both staff and students.
In my final year as an Ashfield pupil I am studying Geography, Sport and Single Award Science. I am hoping for good overall grades within all of these subjects. I have chosen these subjects as I enjoy them and I hope to further my education at university.
Throughout my time in Ashfield I have always been taught to work hard and strive for the best in all that I participate in, whether it may be my academic studies, extra-curricular activities or the social aspects of life. I believe that Ashfield has taught me to be a better man.
It has been a privilege to wear an Ashfield uniform and I am excited for the challenges and responsibilities that I will face this year in my role as Head Boy and I will give my very best in everything I do.