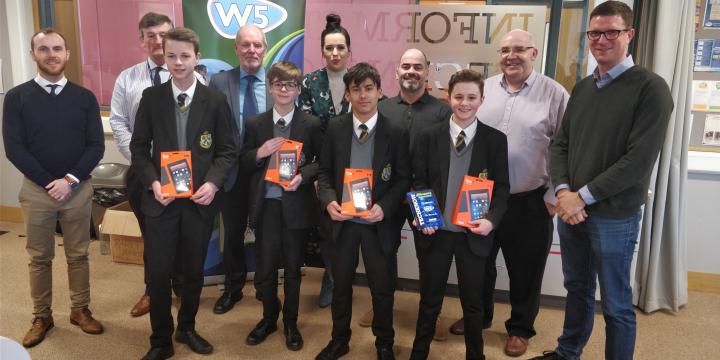 A team of young coders from Ashfield Boysí School have scooped the Techknow challenge 2018. The event was launched in November 2017 and is available to every post primary school in Northern Ireland.
The teams consist of four students and one teacher who were this year given the challenge of creating a website based on one of UNESCOís Sustainable Development Goals, Affordable and Clean Energy. Thanks to the kind sponsorship of AllStateNI each member of the winning team was rewarded with a Kindle Fire and some Amazon vouchers.
Each of the team received mentoring from a STEM ambassador or mentor representing a local business with expertise in ICT who volunteered their time to the program. The 4 members of the team from Ashfield Boys' High School App Club were led by Mr Lowe and assisted by Simon Whittaker from Vertical Structure.
The App Club is a voluntary group of young coders who meet weekly and are all keen to learn more about how to develop a website and understand more about the world of coding and tech.
The team initially decided to approach the task without putting fingers to keyboards The team initially decided to approach the task without putting fingers to keyboards and started drawing out ideas onto paper, this was swiftly followed by some test versions created the old fashioned way with notepad and by following the GoBeserk HTML & CSS book provided by the organisers. No WYSIWYG editors for the boys from Ashfield!
The toughest part of the final was that code could not be brought into the competition room at Strathearn, all the sites had to be started from scratch with the exception of images. Three lengthy coding & testing sessions later, the homepage, quiz and map were all looking great and available for judging. A key measure for points in the judging was enthusiasm and an ability to answer questions about the project to show the progress of the team.
Share