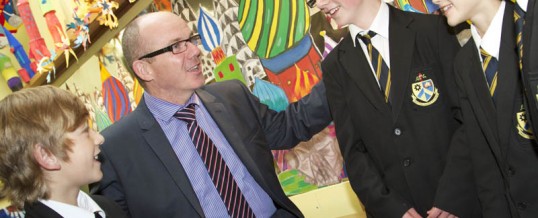 Thank you for taking the time to view our website, we hope that you will find it helpful.
As you and your son decide which post-primary school is best for you, I would like to highlight why I believe Ashfield Boys' High School will provide your son with the best education available. As a father of four I know how important it is that children are happy in school. In Ashfield we believe strongly in a partnership with students, staff and parents working closely together for the best of all involved. An excellent Pastoral Care system is essential if this partnership is to excel. I am delighted to report that Ashfield Boys' High School has such a Pastoral Care system. A Pastoral Care system where pupils are at the centre of all that we do. In fact the Education and Training Inspectorate for Northern Ireland outlined "the dedication and commitment of the staff and governors to the pupils and the life and work of the school" they continued by acknowledging the "strong sense of community which nurtures the pupils' confidence and self-esteem, and promotes mutual respect." I am 100% confident that, if you and your son chose Ashfield Boys' High School, you will both be very happy with your choice and that your son will enjoy his time at school.
However, school is not just about being happy. As a teacher of 24 years experience, gained in some of Northern Irelands other top all ability schools, I know how important it is to ensure that we provide our pupils with the best educational experiences and opportunities available. It is our job to guarantee that your son gains the necessary and relevant qualifications while developing the skills that will ensure that he progresses to the next levels of education and or employment. Again, if I may, I would like to state what the Education and Training Inspectorate said about Ashfield Boys' High School in relation to the students' attainment at both GCSE and 'A' Level. Quite simply they highlighted "the excellent standards achieved by the pupils in public examinations." In Ashfield we believe in providing the best for all of our students. That is what we have done historically and what we will continue to do in the future.
It is vitally important that we acknowledge our past; it has provided us with strong foundations, strong foundations based upon high standards of excellence, strong foundations of community and strong foundations of support and togetherness. However, we must not simply dwell upon our past, we must not simply try and replicate our past or we will be in danger of not moving forward with the future. Therefore, we must continue to develop and grow. We live in very different and indeed difficult times both in terms of economics and employment opportunities. The world is changing at an alarmingly fast rate, particularly in terms of information technology. It is our intention to ensure that in Ashfield Boys' we stay at the forefront of these world developments. Over the next five years you will see Ashfield grow and develop further particularly in terms of facilities, resources and opportunities for all of our students. Your son, by choosing Ashfield Boys' High School, has the chance to be at the centre of these exciting opportunities.
I would like to invite you to visit us on our Open Night. This will provide you with an opportunity to sample a snapshot of life here in Ashfield Boys'. I, along with staff and students, will be available to answer any questions you might have. Our school website will also provide you with more information and will advertise times and dates for Open Night. If you would like any further information then please do not hesitate to contact me or one of our Core Management Team at the school.
I look forward to meeting you at our Open Night and working with you in the future.
Mr Jo McColgan MSc; B.Ed; DASE; PQH
Principal
Share